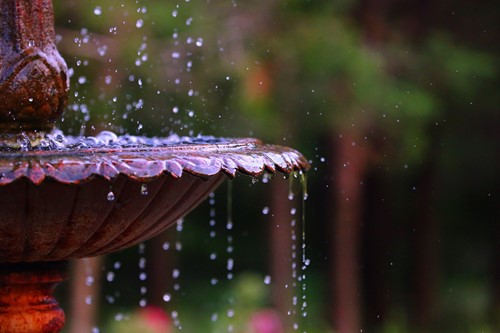 As the weather warms and the days become longer, many homeowners spend more time in their outdoor spaces. No matter the size, a backyard can be an escape from the stress of the work day and a relaxing place to socialize with friends and family. Creating a sense of calm and beauty in your backyard will make you want to spend more time enjoying the fresh air. Here we will go over some ideas for how to turn your backyard into an oasis in the desert of daily life.
Just Add Water
You don't need a swimming pool in order to enjoy water in your backyard oasis. From full inground ponds to free-standing fountains, there are lots of choices for adding the soothing presence of water to your backyard. If you're short on space, try a combination birdbath water feature. This will give you the calming sound of fresh running water as well as encourage birds to visit your oasis. The movement of the water will also help you avoid mosquitos or other pests that thrive in stagnant water.
Comfortable Seating
You want your backyard oasis to be as comfortable as possible. Investing in the right outdoor furniture will keep you coming back for more. However, investing doesn't mean you have to spend lots of money—rather, take the time to test out furniture before you buy it. If you have the opportunity to sit in chairs, sofas or benches you'll be able to make a much better choice. Spending the time to find the right outdoor furniture that's comfortable rather than just good-looking means you'll be happy to sit and stay a while when you go outside.
Plenty of Shade
Every oasis needs the cooling shade of trees or other coverage to maintain a comfortable temperature. Building a pergola is a great way to create partial shade and also provide a place for climbing plants to grow. Canvas sails are another option for creating shade in your backyard as are privacy screens and curtains. Depending on the size and layout of the space, some options will work better than others. As long as you create enough shade to escape the heat, you'll be more comfortable and relaxed in your personal oasis even in the hot sun.
Don't Forget the Plants
Even if you don't have room for planting in the ground, you can still add some extra greenery to your backyard oasis with containers and planters. Surround yourself with lush and hardy outdoor plants or add color and sweet scents with your favorite flowers. You can hang individual planters from awnings or on walls, or use multi-tiered plant stands to save floorspace. Keeping container plants also means that you can take them indoors when the seasons change. That way, you won't have to worry about your plants adjusting to cooler weather.
Creating a backyard oasis is all about creating a space to relax, recharge and enjoy nature in comfort. These are just a few ways to transform your backyard regardless of the size or layout. Adding your own personal touch will make your backyard a place you want to spend as much time as possible.