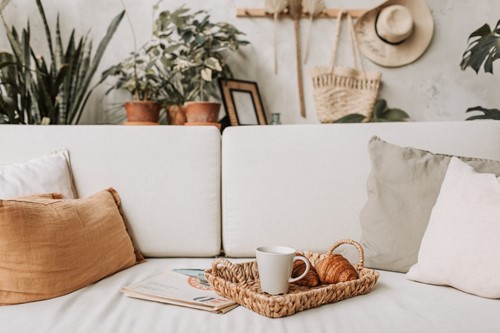 Do you love the look of rustic interior design but aren't sure how to use it in your modern home? It might seem overwhelming or impossible to introduce elements of a design style that feels completely different from what you currently have. The good news is that modern rustic style combines elements of both modern and rustic homes to create an effortlessly comfortable and trendy look. Here are some simple ways to introduce rustic design elements into your modern home.
Start With Art
One of the easiest ways to change up your interior style is with art or other purely decorative pieces. Rustic design celebrates everything in the natural world and you can see it in the art choices of popular designers and homeowners who have adopted this style. Some common subjects include landscapes, studies of trees or leaves, animals like cattle, horses, or deer and the occasional floral. Go for more traditional art styles rather than abstract—landscape photography is a great choice, too. Choose recognizable images that bring the beauty of nature into the home.
Even if you decide to keep the same artwork on the walls, simply changing the frame can also have a huge impact. For example, swap out minimalist metal frames for ones made of unfinished wood.
Emphasize Texture
Another easy way to add rustic charm to a modern space is by adding in more texture. Rustic design uses lots of natural and tactile materials both for furniture and accents. Swap out smooth and shiny finishes for more gritty and weathered surfaces like wrought iron, stone or grainy wood. You can even sand down existing or unused wooden pieces with an especially glossy surface as a DIY project. Opt for more chunky knits and heavy fabrics paired with comfortable and well-worn leather.
A large antique or traditional style rug is one way to add rustic style to a room with a single piece. However, even when keeping all the same modern furniture pieces, you can add rustic accents to transform the entire look and feel of a room.
Make Conversation
It may sound strange, but you can contribute to your new rustic style choices by simply changing the arrangement of your furniture in a room. Focusing on specific zones for "conversation" purposes will make the space more comfortable and promote togetherness, while also honoring the more traditional roots of the rustic style. Face chairs and sofas toward each other, and make sure there are enough seats all the way around the dining table.
Speaking of dining tables: if you don't have one, this might be an excellent opportunity to get one. While they don't work with all modern house layouts, you can usually fit a small dining area into an open floor plan and create another conversation space at the same time. Dining tables, as well as the idea of gathering together for food and drink, are a key feature in rustic design. Any place in your home where you can create a sense of comfort and ease will create harmony between the modern and rustic style.
When trying out a new interior design style, you don't have to change everything at once. Start small by changing some pieces and you might find that you progress naturally into your chosen style without blowing your budget or creating a sense of upheaval. Even better: you may learn more about your own unique style in the process.